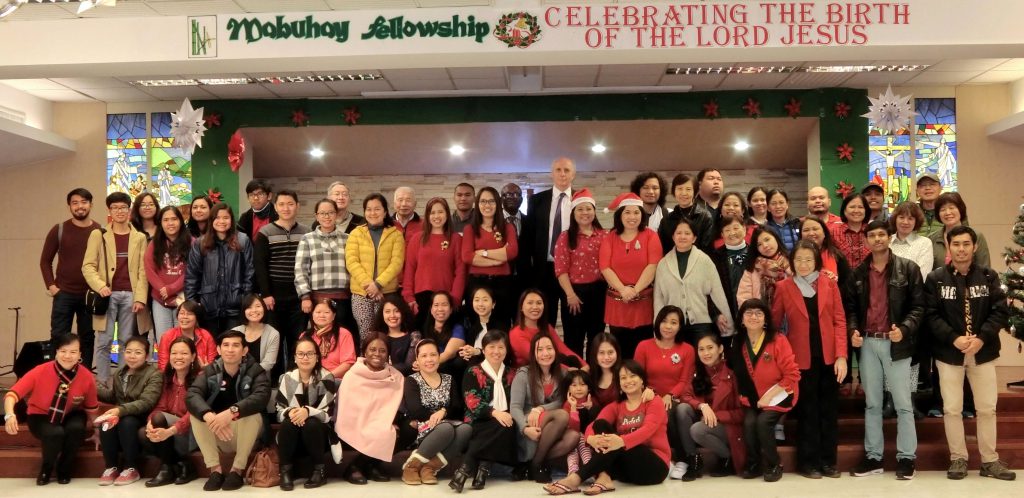 Ministry Leader: Ava Zamora and Jeanette Fabico
Email: avazam13@gmail.com and jeanettefabico@yahoo.com
Mabuhay means "long live" as a greeting or "to live." The Filipinos who have found a spiritual home in Grace Baptist Church chose this name to affirm that there is eternal life that only the Lord Jesus can bring. Their No. 1 priority is to live out their faith and share God's love and light through worship, prayer, fellowship, gospel sharing and serving through church ministries while working, studying or training in Taiwan.Together they enjoy a variety of activities including outings, sportsfests, birthday celebrations, and special fellowship times featuring songs, dances, games, and singing.In addition, the group wants to share God's love and light with others. Therefore, Mabuhay Fellowship provides prayer, financial and other support to:
Non-Mabuhay Fellowship members such as typhoon victims in the Philippines
Organizations such as World Vision and the Radio Bible Class.
Although the MF members are mostly Filipinos, other nationals are very welcome to join the MF and join in its Sunday activities.
Mabuhay Fellowship is sponsored by the Filipino group at Grace Baptist Church, but they welcome everyone to their activities in Room B05 (basement). They have a potluck lunch every Sunday at 12:30 pm. The group also meets for prayer on the 1st Sunday of each month, Bible study on the 2nd Sunday, fellowship with inspirational speakers on the 3rd Sunday, and special fellowship activities on the 4th and 5th Sundays.
We meet at Room B05 at 12:30 p.m. for potluck lunch and 2:00 p.m. for other special activities.