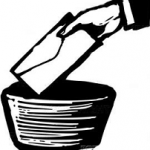 And God is able to make all grace abound to you, so that in all things at all times, having all that you need, you will abound in every good work. (2 Cor. 9:8 NIV)
Bank Wiring OR ATM transaction
Account Name
Grace Baptist Church

Account No.
118-20-081386-4

Bank Name
Hua Nan Commercial Bank. LTD. Gong Guan Branch

Bank Address
No. 216, Sec 3, Roosevelt Rd. ZhongZheng Dist., Taipei City, 100, Taiwan

Bank Swift Code
HNBKTWTP118
Notes about Giving Your Offering Online
1. GBC will send your annual offering receipt to the Ministry of Finance. If you DO NOT want your information sent to the Ministry of Finance, click here for details.
2. The above offering information is for both ATM bank transfers within Taiwan (beneficiary bank's code for ATM transfer is "008") and international bank wiring.
3. After online/wiring transaction, the donor must contact us by filling out information HERE, so we can confirm the transaction. Other contact information is given below, for your information.
4. The donor must pay the handling cost at their end. The amount shown on the GBC issued receipt will be the actual amount GBC received. 
OTHER offering options
Postal wiring:
Account Name: Grace Baptist Church
Account Number: 18732022
Credit card:
Click "HERE" for credit card donation forms. Fill it out (choosing EITHER Chinese OR English form) and email it to our secretary (

suejenny@gbc.org.tw

).
You may also print out the form to fill, and put it into the GBC collection box.
Check:
If the check is issued from countries other than Taiwan, make it payable to "Grace Baptist Church".
If the check is issued in Taiwan, make it payable to "財團法人台北市基督教浸信會懷恩堂" or "基督教浸信會懷恩堂" (choose either title).
If you make any change, sign your name next to the correction.
You can bring the offering check to GBC the next time you come. Please provide contact information for GBC to mail you the receipt.
If you mail the check, include the donor's information so that GBC can issue a receipt later.
Contact us if you have questions about giving offering (choose one)
Contact the English secretary SueJenny Hsu:
– Email address: suejenny@gbc.org.tw
– Phone: 02-2362-5321 ext. 136 (Outside Taiwan: +886-2-2362-5321 ext 136;  Taipei local time: UTC/GMT +8 hours)
Mail:
– Send to: Grace Baptist Church
– Address: #90, Sec. 3, Hsin-Sheng S. Rd., Taipei City 10673, Taiwan R. O. C.
Fax to GBC accountant, Anita Chen, at 02-2362-7975 (Outside Taiwan: +886-2-2362-7975)