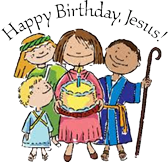 Happy Birthday, Jesus!
Special Christmas Missions Offering
Just like the wise men from the Orient who offered precious frankincense, gold and myrrh to King Jesus, let us consider what gift we will offer in honor of His birth.
Prepare your heart to generously participate because on December 18th, we all will have a unique opportunity to give a gift to Jesus in support of the reason He was born, namely for the entire world to share in Jesus' love through the Gospel.